There are many different ways that you can support the ICF, but rest assured that however you support us, every penny we receive is used to give our cadets the best experience possible, which will in turn, continue to support our local communities.
There are three main ways you can support us:
Donate Today:
You can make a donation for the amount of your choice, simply by click on the button below, which will take you to our PayPal donation page. PayPal is safe, secure and easy to use.
Havant Community Lottery: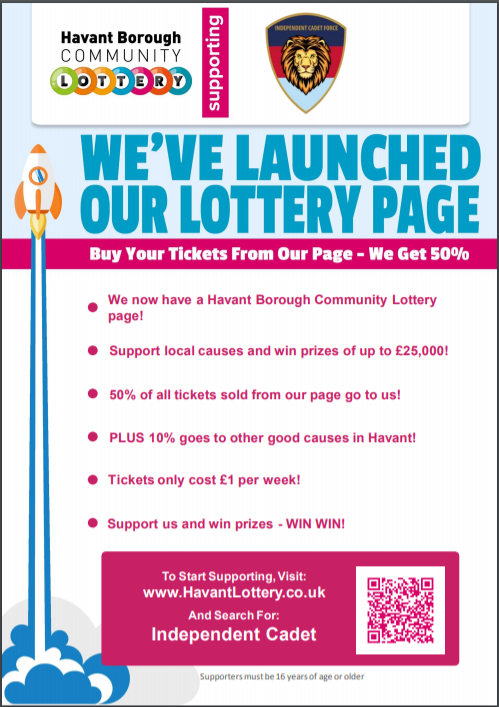 Havant Borough Council's own online Community Lottery helps to raise funds for local charities and community groups.
Tickets cost £1 with 60p going towards local good causes, compared to just 28p in the pound for the National Lottery. The weekly draw has a jackpot of £25,000 for a matching sequence of six numbers, with other prizes including £2,000, £250, £25 or three free tickets.
As a registered 'Good Cause' with the Havant Community Lottery, we have been provided with their own lottery page, and we receive 50p in every pound spent by players who purchase tickets via our page. Secondly, a further 10p in every pound will go into the Havant Borough Community Fund, through which local groups can apply for small grants to support their work.
If you wish to have the chance to win upto £25,000, visit our page by clicking HERE to purchase your tickets today and support the ICF in the process. Good Luck!
(Players of the Havant Community Lottery must be aged at least 16 years.)
Fundraise On Our Behalf:
If you wish to fundraise on our behalf, there are many ways that you can do this:
Collection Tin: If you are a business and wish to hold one of our collection tins, then simply contact us. We will take some details in terms of where the tin will be located and we will provide everything you need to get going.
Challenging Events: If you are looking to take part in a challenging event such as a Marathon, you can complete the event in our name. We can provide you with everything you need in terms of raising funds for us and we will even supply you with some branded clothing for your event.
ICF Merchandise:
We have a variety of ICF Merchandise available to show your support. A detailed list of our merchandise will be published shortly. If you wish to purchase something today, you can make an enquiry via the 'Contact Us' page.