We are very excited to announce that 101 Troop are about to become an official 'Affiliated Unit' of the Royal British Legion.
Over the last few months, 101 Troop have been in talks with the RBL Riders Branch, who are a national branch of the RBL that are brought together by their enthusiasm for motorcycling and willingness to support the aims and charitable efforts of The Royal British Legion. With certain members of the 101 Troop staff volunteers being members of the RBL Riders, as well as the units' Chaplain (Paul Miles-Knight) also being the Chaplain of the RBL Riders, this seemed a fitting partnership for both organisations.
There are many RBL Affiliated Units across the UK, both uniformed and non-uniformed organisations, that help to support the RBL at various times throughout the year, most especially for fundraising, supporting community events and promoting the aims and achievements of the RBL as a whole. With establishing such a relationship with the RBL Riders, 101 Troop are already planning on supporting events in 2022 and beyond where they can.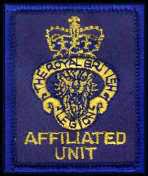 On the evening of 5th January 2022, 101 Troop will be meeting with representatives of the RBL Riders to officially confirm the new partnership. As well as signing and receiving a certificate confirming this partnership, Cadets and Staff will be presented with a RBL 'Affiliated Unit' badge by the Riders, which they will wear proudly on their uniforms.
Everyone at 101 Troop are looking forward to this day and it will certainly kick off the New Year with a great start!